Ask a Librarian has been adding local library FAQs to LibAnswers. These FAQS are embedded on a page that is linked to the local library logo and "Find out more about [your local library]" on the local Ask a Librarian pages of member libraries to replace the direct links to your local library web page. All of the currently available local library FAQs are also listed under "Ask a Librarian Member Libraries" on the TBLC LibAnswers site. The FAQs are embedded on an Ask a Librarian container page, like this FAQ page for Jacksonville Public Library System.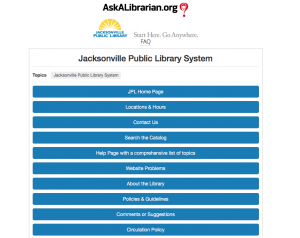 It's easy to embed these mobile-friendly FAQs on any web page.
Login to LibGuides
Go to Admin > Widgets & API


1-admin-widgets
Find your library's FAQ widget, select View Widget Code


2-view-widget-code
Copy the JavaScript and HTML snippets


3-widget-embed-code
Paste the code into the place on your LibGuides page where you want the FAQs to appear
These local library FAQs replace the Drupal-based local library info that we used before the migration to Springshare. The local library FAQs are being created in the order of pageviews that our Ask a Librarian local pages receive. If you would like to experiment with embedding FAQs on your web pages and don't see a FAQ widget for your library yet, contact the Ask a Librarian Help Desk.